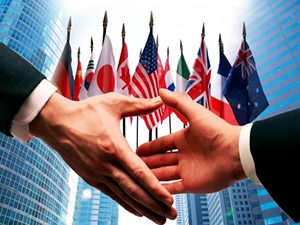 Course Description
How to approach trade negotiations in an effective manner aspiring to shape their sequel and reach a successful outcome.
Course description
The course provides an overview of the concepts and practices that will allow you to understand and navigate through the opportunities and challenges encountered in trade negotiations. It focuses on how to effectively participate in and conclude international trade deals.
The course begins with an outline of the importance and the roles played by various parties in trade negotiations at bilateral, regional and international levels. Then it moves on to discuss the practical challenges to effectively participate and promote better trade deals, notably using appropriate strategies and tactics and the removal of legal barriers to trade negotiations. Finally, the course concludes by exemplification of trade negotiations in the World Trade Organization (WTO) and the European Union (EU). The course puts in practice the theory through a series of real-life case studies.
Course aim
After completing this course, participants will be able to: understand the practical challenges and opportunities encountered in trade negotiations; identify the drivers and conduct self-assessment of usefulness of trade negotiations; develop an awareness of engaging in trade negotiations; identify and discuss ways to effectively approach trade negotiations; apply best rules and practices in drafting free trade agreements.
Course structure
Module 1 – Key aspects: who, when, why, how?
Module 2 – Elaborating positions of trade negotiations
Module 3 – Trade negotiation strategies, tactics and techniques
Module 4 – Legal barriers. Drafting trade agreements
Module 5 – Negotiations in the WTO and the EU
Case study – Individual correction of practical exercises
Course certificate
After successful completion of the course you will receive a Certificate of Completion, issued in electronic format.
For further details about the course or customized solutions, please contact: info@gicel.ch
Scholars Detail
Dr. Octavia Cerchez Designation:

Professor and Head of Research

Dr Octavia Cerchez is Professor and Head of Research at Geneva Interdisciplinary Centre for Economics and Law. Holder of a PhD in Economics and a...
Course Feature
Date:

24 August 2020

Fee:

195 Swiss Francs

Type:

on line/internet based

Participants:

N.A.

Duration:

3 weeks

Skills:

No Prerequisits

Language:

English

Assessment:

Self